Hmmmmm … party planning, what a headache!
Well, it really needn't be that bad.
An outdoor entertainment area, such as a deck or patio is an ideal setting for a gathering of friends, family, neighbors or work associates. Party planning in this setting can be simple and straightforward no matter what the occasion; all it takes is a little creativity and a lot of enthusiasm.
Let's look at some of the basics of success
Planning an outdoors party is wonderful for events such as graduations, weddings, baby or bridal showers, company picnics, reunions or even neighborhood celebrations, particularly over the summer and spring seasons, when the sun is shining and the garden is at its most vibrant. Even if you just want to invite friends and acquaintances over for a barbecue your patio party needn't be traumatic. Party planning is great fun when you know that the weather is fine and people are keen to get outdoors.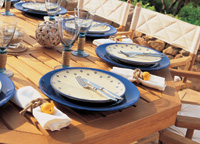 It's never too early to begin your party planning. You know all year long about key birthdays and other events, so why not take a little time to plan ahead. Too many events are thrown together on a shoe string budget without any real thought given to entertainment, theme, decoration, and food. Paying attention to these key items is the secret to successful entertaining.
Here are a few key suggestions for party planning that will inspire, engage and entertain your guests:
Put together a guest list as early as possible,
Send out the invitations 2-3 weeks prior the event,
Don't try and take on the world – if you need to, delegate some tasks out to others – such as cleaning or catering,
Prepare your garden and entertaining area – water and prune the garden, clean the outdoor furniture, sweep the patio and decorate the area with bud candles, citronella torches and incense,
Select a theme and color scheme,
Set a fixed time – if you don't want it to run too late then specify the start and finish times on the invitation,
Setup the drinks areas away from the kitchen/food areas – this will ease potential congestion when there are plenty of people milling around and chatting,
Ensure that you have the right equipment to keep cold food cold and hot food hot,
Have a back up plan if there is inclement weather – be prepared to move inside if you need to, and
Relax and enjoy yourself – your guests will relax if they see you doing the same!
Hosting a great outdoor event doesn't necessarily mean slogging away all day long in the kitchen. With a little imagination and some intelligent party planning, you'll do great! Think ahead and prepare as much as you can the day or days before the event. You'll be surprised at how much time this can save you.
There is something magical about a party under the sun and the stars. Party planning ahead of time will ensure that your next event is remembered by all of your guests. Make sure your patio party will be talked about … do it right.