A short consumer guide to wrought iron furniture, in particular iron patio furniture
Wrought iron furniture offers a look of stability and class, somehow it seems traditionally British, or it may bring back memories of a Mediterranean holiday sitting around a bistro table. Whist it offers a stable, weather resistant and attractive choice for patio and garden furniture, there are several things you should know about wrought iron patio furniture …
So, let's take a look into the world of wrought iron furniture in our short consumer guide:
Traditionally speaking most items that we commonly call wrought iron are not they are cast iron. In fact, the term wrought iron means pieces, bars or strips, of iron that are bent to shape, usually over a furnace (forging), and welded or bound in place. These pieces offer a much more traditional look and are often made with heavy grade iron, although due to the workmanship involved the prices of such furniture can become rather expensive.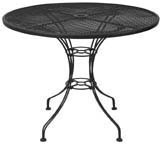 The high cost may be a negative aspect for many, but proof of its durability can easily be found in the huge number of public parks and gardens that have had iron benches outside for years.
As with most metal furniture on the market today, wrought iron patio furniture is often powder coated and painted. Although iron will rust in wet conditions if the coating is scratched or damaged, it is easily touched up with paint to prevent further rusting.
Wrought iron furniture is a term commonly used nowadays for most types of metal furniture, let's take a quick look at the various types easily found in your local hardware store or on the internet.
Wrought Iron Patio Furniture:
As we saw above wrought iron furniture, whether for patios or inside, generally use galvanized (meaning coated with zinc) iron parts especially on key areas prone to rust, such as moving parts. Forging is an art and is carried out by skilled craftsmen. Traditional furniture can be oven painted, powder coated, or hand painted, or protected by transparent preservatives. It is important to keep any moving parts oiled. Any scratches should be painted over immediately in order to avoid rust.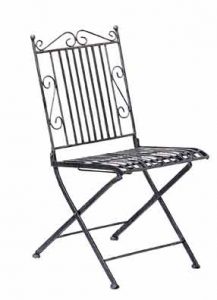 Cast Aluminum Furniture: The same casting techniques are used for aluminium as for steel. The higher grade cast aluminium furniture made by craftsmen who hand pour molten aluminium into wood carved molds. The finished pieces are then polished and painted, usually baked. This finish provides a thicker, more robust coat than traditional paint.
Wrought Iron Patio Furniture & Cast Iron furniture
Heavy and durable.
Can be used anywhere.
To maintain iron patio furniture wash it occasionally and apply liquid car wax at least twice a year. If you see any rust take, care of it immediately with a wire brush and touchup paint. Fast action will keep the rust from spreading. During the winter covering or storing your iron furniture inside will help to prolong its life.
Aluminum Patio Furniture
Doesn't rust, relatively lightweight, durable, minimum maintenance.
Low maintenance. Wipe the pieces down occasionally with water and detergent. Apply a coat of liquid wax at the start of each season.
Suitable for use almost anywhere. Lighter aluminum pieces may not be suitable in areas with high winds.
The key to buying any piece of furniture, is that you generally get what you pay for, however, a high price tag isn't always a sign of grade A quality. Shop around for your wrought iron furniture and consider the points above. You may be surprised at what you find.
However the price for wrought iron garden benches will start at about $200 and go well over $1000,
dining table would be approximately $290,
a simple fold-away chair should start at around $60 and I have seen hand crafted garden chairs for over $2000, each piece hand made to order.
If you your budget won't allow for wrought iron patio furniture you can also get the traditional "wrought iron" look available in lighter-weight, powder coated aluminum often at a fraction of the price of wrought iron furniture.