Outdoor Rocking chairs – Just the mention conjures up images of relaxing on the porch during a hot summer evening, sipping away on iced tea, immersed in conversation or just simply lost in thought.
There is no denying that there is no better way to enjoy some afternoon summer shade or lazily rock away the evening than sitting in an outdoor rocking chair. You can mix your modern frenetic lifestyle with the old traditional way of taking it easy. Outdoor rocking chairs are a great way to relax and enjoy the outdoors.
Most wooden furniture is shipped unfinished, meaning that if you want, you can seal it with special furniture oil, paint or other colouring. Before doing anything there are many factors are to be considered when finishing your new outdoor rocking chair.
Consider the weather where you live. Is it sunny and hot, cool and wet? Do you store the outdoor rocking chair in the winter?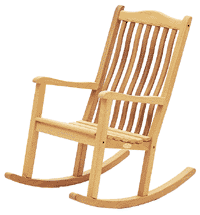 Some people prefer their outdoor furniture to weather naturally over time, this will leave the wood with a silver/gray look. Others wish to keep to new look.
The sun, wind and rain will change the surface color of unprotected hardwoods but this doesn't affect the structural integrity of the wood.
Hardwoods with an oil content, such as teak and cedar, don't have to be finished, whereas soft woods such as pine must be sealed otherwise they will rot over time.
If you do decide to seal your outdoor rocking chairs, it is advisable to use a wipe-on product rather than paint or varnish, as these have to be applied every year or two. There are many wipe-on finishing products available, natural and synthetic, that will enhance the beauty of your furniture. Try to find products with a mold inhibitor if you live in a wet or damp climate, and UV protection if you live in a hot sunny area.
What about cleaning outdoor rocking chairs?
You can clean your outdoor rocking chair once a year with a soft brush or sponge and a quality wood cleaner, available at most hardware stores. Be sure to rinse your rocking chair well with lots of clean water and allow to dry thoroughly before applying any finish.
If you really want to take care of your furniture, a monthly rinse with mild soapy and a cloth or sponge is a good inexpensive way to prolong the life and beauty of your rocking chair. Be sure to rinse well with clean fresh water after washing.
How Much Can I expect to pay?
Like most patio furniture, and rocking chairs are no exception, there are models to fit every pocket. We are going to assume that you are interested in something that is going to last more than one season and isn't going to fall to pieces the moment you sit down.
When comparing prices on outdoor rocking chairs among online retailers, make sure you are checking the total price of the outdoor rocking chair which includes the price of the item plus shipping cost. Look out for product guarantee and warrantees too.
Rocking chairs can be made of wood, iron, aluminum, resin and plastic. They can be of a traditional simplistic design or be the brainchild of some futuristic architect.
A rattan and wicker rocking chair will cost about $150 upwards, most models today are made of resin type wicker that has no fears of being left outdoors exposed to the elements. Don't be put off by synthetic materials. In fact, you can find very sturdy high quality plastic rockers, some even weigh as much as 40 Ibs. Prices for this kind of rocker usually starts at $300-350. Some advantages with quality plastic furniture, apart from being weather resistant, is the wide range of colours usually available.
If you can't resist the beauty of natural wood and the many different designs available, then you have so much to choose from: pine, cedar, mahogany, oak, cypress, teak and rubber-wood to name the most commonly used woods. Pine are the less expensive, whereas teak is generally the most expensive. A good quality cedar rocking chair will normally cost anywhere from $250-$500. Teak models normally start at around $400-$450 and can often be found way over the $700 mark. You won't want to forget your cushions either.
Most wooden furniture products purchased online are shipped ready to assemble Plastic and resin items my arrive already assembled. Manufacturers will ship the furniture together with all necessary fasteners, so you wont have to purchase anything. Assembly is usually very quick by just following easy to follow instructions.