For many Wicker Furniture simply means "relax" … and it has for over a 1000 years!
If we think of all the different materials used for furnishings, wicker furniture is probably the most versatile of all.
Wicker furniture fits perfectly with upholstered pieces. From the living room to laundry wicker just fits in great and never looks out of place. But put wicker patio furniture out on your lawn and it really comes to life.
Let's look at a common misconception with wicker furniture …
Wicker is in fact a process and not a material. Wicker simply refers to pieces of furniture, vases, boxes, etc. that are made of woven lengths of material. Wicker may be made of rattan, cane, banana leaf or a host of synthetic materials. So, let's continue …
Wicker became really popular back in Victorian times, when its smooth surfaces and clean lines were believed to be more sanitary than upholstered furniture. European immigrants brought their wicker to America, where, as with every other import, it mutated to fit the New World.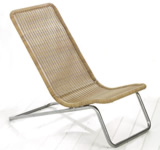 But today, things have changed, we are no longer limited to the dull white wicker furniture that Grandmother used to love.
No, colours for wicker furniture now range from brick red, garden green, sunny yellow, and of course … white. Also the designs have come on a long way. Giant over-sized couches and armchairs with big comfy patio cushions can be seen beside many pool and verandas. Wonderful garden sets also come in all shapes, colours and sizes.
But, similar to teak, there are so many large variations in cost. So how do you choose your piece of wicker patio furniture, making sure you get exactly what you want?
Good question …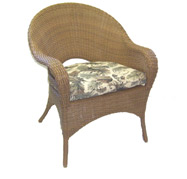 The best wicker furniture is made on an aluminum, hardwood or a rattan frame, this will give it stability and weight. Whatever the woven material, it should be dense.
In fact, wicker furniture should be heavy. Light wicker, although more cost-effective just wont last long.
The benefit of wicker is also its downfall: it is lightweight and very versatile, but it is not intended for permanent outdoor use and is more susceptible to weather damage than other types of furniture made strictly for outdoor use. In fact, wicker furniture, can't hold up to the stresses of hot sun and overnight dampness found on your deck or lawn.
There are now many alternatives available that have no fear of being outside for long periods of time. You might find specially-treated furniture more appropriate made with molded resin or coated with plastic
Higher-end wicker furniture won't crack or peel. It's smooth and comfortable. Cheaper wicker furniture often has stray ends or fibers that will poke your skin or pull at your panty hose. And nobody likes that.