Unfinished Furniture – taking control of outdoor living
With unfinished furniture you really can design your garden or patio of the future.
Unfinished furniture allows you to complete the final stages of the furniture design through a do it yourself process of assembly and decoration.
Unfinished furniture such as chairs, tables, loveseats and arbors come shipped to you as an unassembled item, with all of the required instructions and hardware to construct the pieces. Then it is entirely up to you as to how you decorate the pieces to match your garden's style and sophistication.
Nothing could be easier …
Generally unfinished furniture comes lightly lacquered with oil, is cut with precision, so the joints fit snugly and securely, the hardware is Zinc plated to combat loosening of joints and hinges, and to prevent corrosion in outdoor settings. All holes are pre-drilled, making any assembly very simple for the most basic of handymen.

Unfinished furniture is usually cheaper than its finished cousins, meaning that you have more money in your pocket for accessories such as cushions and rugs. Wondering how on earth you will find inspiration for decorating your outdoor pieces. Take surf on the Internet, read some decorating journals and magazines or even talk to friends. Get a feel for color and style and then match those against your existing garden setting.
You'll be surprised at just how creative you can be!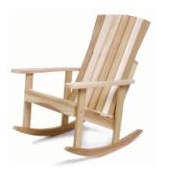 Buying unfinished furniture puts you in control of how the furniture will look in your outdoor entertaining area. With most furniture, you have to settle for the color or finish on the product. But, when you buy unfinished furniture, you can select a stain that will match your own environment. And usually if you decide you don't want to do the work yourself, your retailer can arrange to have it assembled, finished and delivered straight to your door
If you decide for a more traditional approach, there are several factors you should take into consideration before working on your unfinished furniture.
Do you live in a damp, wet or humid climate? If so, you should be looking for something with a mildew inhibitor. If you live in a hot, dry, sunny climate you will need UV protection to stop cracking and fading. Most hardware stores have a range of wood finishing products, that may be natural oils, such as teak oil, varnishes or even paint. However, it is most convenient to use wipe-on products as they are easier to apply and don't need as much maintenance.