Rattan furniture is the perfect furniture solution for your outdoor entertaining area, sunroom or indeed any room in your home, because it is:
strong and light, so it's easy to move around and take into the garden or patio.
robust and warm, because it is a natural product.
available in a variety of designs and styles, to ensure you will always find a piece to suit your taste!
Rattan is a type of climbing plant that is very long and so it is good for continuous strips of reed which is used to make wicker, rattan and reed furniture such as chairs, tables and loveseats. Rattan is quite strong in itself, but when many strands or reeds are put together it results in greater strength. As such, this style of furniture is very hard wearing and when it is kept clean and maintained can last for many years.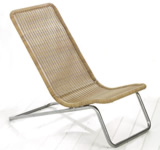 Outdoor entertaining should be fun and hassle free. You need rattan furniture that will compliment your garden and patio while unobtrusively serving its purpose as the key infrastructure in your outdoor room. Rattan furniture is usually moderately expensive, making it a possible option for first home buyers and irregular entertainers.
An idea of costs for rattan furniture
Patio furniture comes in all shapes and sizes, and rattan furniture is not an exception. A nice rattan chair, similar to the one in the picture would cost around $100 – $300. Over the last couple of years, rattan oversize sofas and chairs have become popular, often seen in catalogues with big white cushions placed beside a pool.
A sofa can cost way over $1500 and an arm chair in the same oversize style around $1000. Whilst not for every pocket, these items are beautiful to look at and comfortable to use.
Less expensive models made of handwoven polypropylene resin provide the look and feel of a natural product at a lower price.
Resin coated rattan furniture is durable, perfect for outdoor use. Protected against the elements resin coated rattan furniture can be used for all sorts of day and night time activities such as entertaining friends and family, relaxing after a hard day's work or simply drinking in the midday sun.
A common misconception: What is Wicker ?
Wicker is a weaving process, not a material. One of the materials used in the weaving process is called rattan core, which comes from the rattan interior. A machine cuts the inside of the rattan pole, into pieces small enough in diameter for the weaving. Wicker furniture can be made from banana leaf, sea grass, rattan strips and resin materials.
Wicker and rattan furniture usually come without in built cushions and accessories, so this gives you the opportunity to dress up the chairs with your own cushions and throw rugs. This means that your can match your outdoor entertaining area with a fresh color scheme for each season if you desire. Consider how some well appointed rattan furniture can transform your garden into a relaxing setting for all entertaining occasions.