You may not be totally familiar with cast aluminum furniture, so let's take a look …
Cast aluminum furniture for the patio has become a popular choice for those wishing to add Old-World style to their patios. Cast aluminum patio furniture will last for years and will not rust. It is light and easily stored during the winter months.
It requires low maintenance – light cleaning in the spring and an occasional refinishing of the frame. Any nicks or scratches can be easily touched up and stains can be removed with just soap and water.
Cast aluminum patio furniture and its delicately curved designs
It is these designs that add a touch of class to the patio or deck. These intricate designs are first carved from wooden models that are used to prepare the metal molds. These molds are then pressed into casting sand to create the impressions. Molten aluminum is poured into the molds and when it hardens the sand in cleared away to reveal the finished product. The design options for cast aluminum patio furniture are virtually endless because even the most finest intricacies of detail can be captured through the metal molds.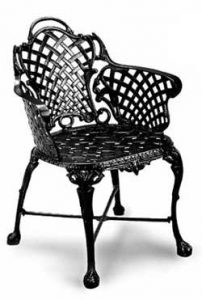 Cast aluminum furniture was once only used around pools because of its rust-resistant quality. It has become so popular today, that it is now used indoors as well as out to add a convenient touch of style to any setting.
cast aluminum furniture and what to look out for
When purchasing cast aluminum, or aluminium, furniture, you should check to ensure that the furniture is of quality workmanship and material. Chairs and tables should be sturdy with no play. The frame of the furniture should be completely aluminum and the hardware used should be of stainless steel or other non-corrosive material. The less connecting hardware, such as screws and bolts or spot welds on the cast aluminum patio furniture, the better, as welding that goes all around a joint is longer lasting than furniture that is welded in different spots.
The best finish for cast aluminum furniture is a powder coated finish to ensure that it will last for years. This finish is thicker than paint and is more durable. If there are any straps on the cast aluminum furniture, they should have been processed with mildew inhibitors and ultraviolet stabilizers. Another thing you'll want to know is whether the furniture has a warranty or not.
When purchasing cast aluminum patio furniture, checking for these key features will show the supplier that you will only settle for the best for your patio.