Only hammocks can offer truly shameful comfort!
But these relaxing beauties do have a problem. They seem simple enough, but there are so many different types available out there that you might just kind of lose track and end up buying a patio bench.
The best place to start, and this is often overlooked, is to figure out why you want one in the first place. Meaning, what kind of person are you and where are you going to use it. Hammocks shouldn't be an impulse buy. Well, today, we are going to try to get your ideas straight and help you become the terrible, relaxed, lazy person that you deserve to be.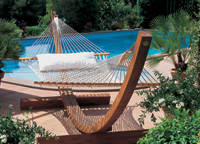 Some questions you should ask yourself are:
Is it for yourself or will you need a double size one
Will it be used just on the deck or garden, or will it be with you on vacation
Are you willing to take good care of it
Will you need a stand or do you have trees, posts, etc, for hanging your hammock
Although there are many variations, hammocks generally boil down to three main types. String or mayan, fabric hammocks, and rope hammocks
I'm going to start with Myan Hammocks, for the simple reason that I have one hanging between a fig tree and apricot tree. I love my hammock, it is old, ugly and discoloured, but so comfortable!
Rope Hammocks:
Just so as you understand what a rope hammock is, you can usually see this kind of hammock hanging from a fancy heavy-duty teak stand in glossy magazine ads.
They are stronger than the Myan variety and are able to carry people that have eaten too many ribs during a barbecue without feeling any stress. Rope units almost always have a wooden bars at the head and foot, which keep the hammock open. They are very comfortable, but due to the heavy duty cords, they do tend to leave a criss-cross pattern along your back and legs. The cords themselves are generally cotton or synthetic, if you live in a damp climate perhaps polyester should be something worth considering.
Just one word of caution, if you are used to the Myan style variety, be careful getting on a rope hammock: due to the spreader-bars, they tend to tip quite easily. Once your on its okay, getting on and off can be fun sometimes.
Now you've got it … You've got to hang it!
I think every hammock comes complete with hanging instructions, but just so as you know, you're going to need two solid supports (trees, posts, walls, beams, etc.) about 15 feet apart. Hook the ends so as that they are about 4-5 feet from the ground and that the hammock forms a gentle curve, the lowest part being about 2-3 feet from the ground.
I use quick release mountain climbing clips on the ends of my hammock, this lets me hook and relax at the speed of light. I recommend this to everyone.
That's it, hammocks no longer hold any secrets from you! As I said before, there are many variations, but you should now have enough information to help you decide what is right for you. Now go relax!