So, let's take a quick look at teak furniture, a precious addition to any patio set…
Teak is an indigenous hardwood tree found in the hilly terrains of Indonesia and Southeast Asia. Perhaps some of the best teak comes from Java, where strict harvesting and replanting cycles are carried out. Here you'll find tips about buying teak furniture, as well as information about caring for it, and a short guide as to how much you can expect to pay for some types of furniture.
Nothing will last as long as teak, no matter how you treat it or how much rain it gets
Without doubt teak the best type of wood for patio furniture, teak has a high natural oil content which means you can leave your teak furniture outdoors for decades. Teak is an extremely dense-grained wood and it is highly resistant to rot, warping, shrinkage and swelling. Did you know that the first outdoor teak furniture was made of recycled wood coming from old sailing ships? Some early benches still exist now in English public parks that are almost 100 years old. It was naturally due to these qualities that made teak popular with shipbuilders in the first place.
I'm hooked. How much does it cost?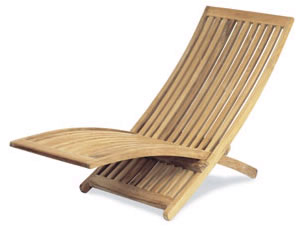 So how much can you expect to pay for teak patio furniture?
Good question. One thing you should know is that there is teak and teak! Some suppliers use handcrafted top quality aged teak with a minimum age of 120 years! This quality of teak has closed pores and a smooth natural feel to it. Other suppliers tend to use a lower grade teak.
Well, a top grade teak patio dining chair can cost as much as $600, whereas you can also find foldable teak dining chairs for as little as $100. A classic teak lounger, similar to those found on traditional luxury liners, can start at around $180 and can go up to over $900. Naturally, if you want the best it does have a high price tag.
The classical teak bench, an old time favourite, can start at around $200 and go up to, and over, $1,500. A teak table can start from around $150 and go up to well over $1,600. The variations in the prices of teak furniture pieces depend on various factors, such as the origin of the wood, thickness and quality, fittings, manufacture and joinery, design, 10-year warranty or 30-day guarantee, etc. Think of it as being similar to a Ferrari and a Ford; both work well and will get you to the supermarket, but are they the same?
Not be confused with cedar, shorea, eucalyptus or any other wood. Teak is in a class of its own. As said above, a Ford is a perfectly good car, but it is not a Ferrari. Cedar, for example, whilst resilient, is not the same as teak furniture.